Build a Post Issuance Compliance Program that Eliminates Stress, High Costs, and the Pain of an IRS or SEC Audit
Learn How to Effectively Manage Your Post Issuance Compliance Program and Feel Prepared, Confident, and Stress-Free While Saving Time & Money During an Audit…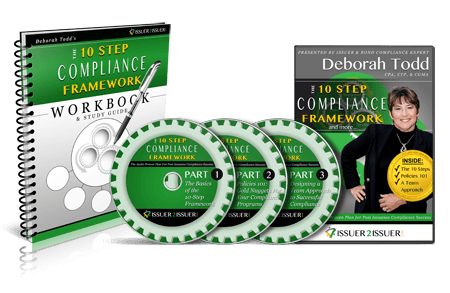 "Erase The Pain Around KNOWING Your Bond Program is Compliant With This FREE 10 Step Framework Video Training" With this training, you will also receive free access to our weekly newsletter, with current events, tips and resources for effective post issuance compliance.
For our best compliance and analysis tips, policies, techniques and tools to help you build and easily manage your post issuance compliance program – join the
Monday Muni Minutes, our weekly compliance newsletter
by clicking the
Get Instant Access
button below.   Plus you'll get instant access to our
FREE 10 Step Compliance Framework video training series
.