ATTENTION BOND ISSUER:
FREE Training Reveals...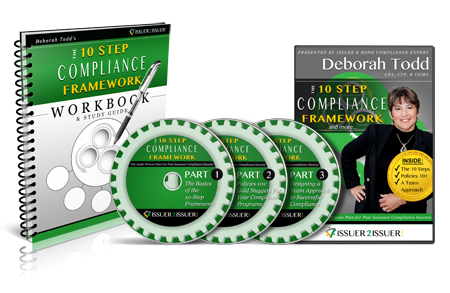 With this training, you will also receive free access to our weekly newsletter, with current events, tips and resources for effective post issuance compliance.
"How To Erase The Fear, Confusion And Pain Around KNOWING Your Bond Program is Compliant!"
After the MCDC, recent public funds scandals and several high-profile municipal bankruptcies, it's clear the SEC and IRS are going to pay even closer attention to our bond compliance going forward...
In this 3-part Issuer-focused and Issuer-presented compliance program basic training, learn how to:
BE SAFE:

Protect Your Bonds using our MULTI-AUDIT-PROVEN 10-Step Compliance Framework - developed over a decade with nationally recognized bond & tax counsel

BE KNOWLEDGEABLE:

Identify WHAT information you need so you can simplify your entire compliance document gathering process

BE PROACTIVE:

Implement industry best standards in your policies so you can stay on top of compliance changes going forward

BE EFFICIENT:

Develop Teamwork strategies which make your compliance more effective, robust and efficient, saving you valuable time, money and headache!

Don't Wait. Compliance violations can cost you – BIG!

Click For Instant Access ››

100% Secure. We Never Share Your Email.
Meet your
fellow issuer

post issuance compliance expert and read what other professionals are saying about her!

Debbie Todd, CPA, CTP, CGMA
President, issuer2issuer.com
Debbie Todd has over 18 years public accounting and municipal finance experience, executing seven open market transactions, over $1 billion in financing and successfully resolving four IRS audits of over $500 million in par since 2008.
"Debbie provides excellent leadership, advice and counsel in financial matters including tax-exempt bond financings. She is experienced, quick, and effective, and can always be counted on to deliver results. "
- Fred C, Legal Counsel
"I had the privilege of working for Deb Todd at Oregon Health & Science University. She is a person of uncompromising integrity with excellent communication skills, extremely knowledgeable in her field, enthusiastic, innately loves what she does and can be counted on to be calm and decisive in time of turmoil. "
- Debbie R, Finance & Compliance Officer